Most marketing efforts today are measured using some sort of digital analytics. Whether it's website visits, page views, session lengths, or impressions, marketers need to know which channels and campaigns are performing best so that they can focus more on those best performers.
Even though we are online most of the day, many businesses rely on phone calls for closing deals. For these businesses, offline conversions (phone calls) are very important. And if you are a marketing agency working with these businesses, measuring offline conversions can be of crucial importance.
How do you measure offline conversions? 
With the help of call tracking.
What is Call Tracking?
Call tracking is the process of connecting offline conversions (phone calls) with online visits. When you call a business and they ask you "How did you hear about us?" – that's the most basic version of call tracking. 
We can all agree that simply asking all potential customers isn't really effective, especially if a business receives a lot of inquiries – and most businesses that rely on phone calls to close deals do.
But, there is an alternative and better solution.
How do businesses track inbound calls?
It is almost a certainty that all businesses have a phone number. The phone number is placed all over the web, on websites, Google Ads and Facebook Ads campaigns, in emails, even magazines, and billboard ads. 
How do you exactly know which one of these marketing channels is most effective in generating phone calls to the business?
Here's an example.
Your tooth hurts really bad. You don't want it to get worse, which is why you want to see a dentist. You Google the keyword "dentist", however, all results are bit broad and you don't have the time to find which dentist is closest to you. You add "soho" to your search query (to narrow it down) and Google shows you these results: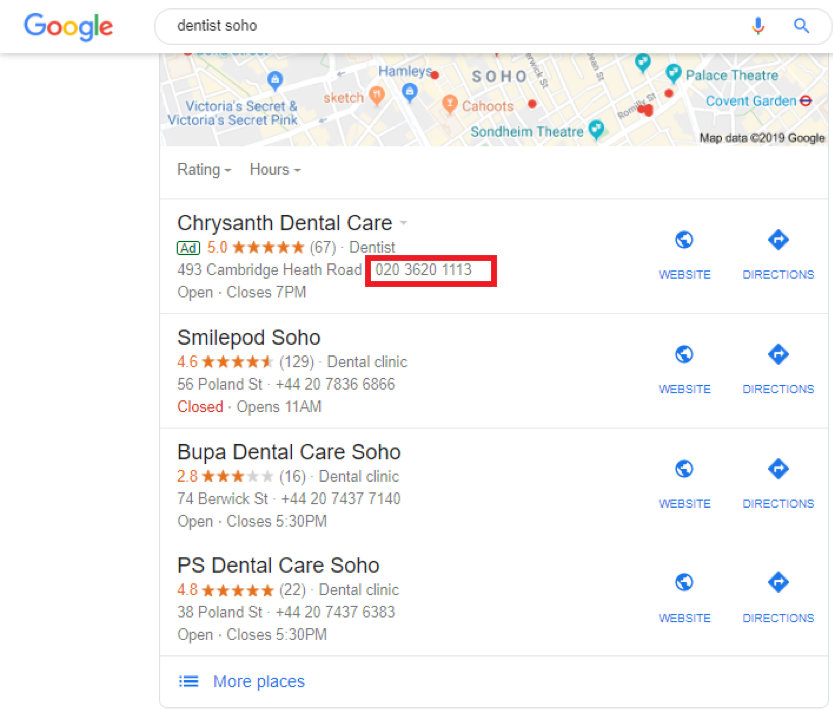 You are most likely going to call the first one and schedule an appointment. 
The dentist solved your problem but you kind of created a problem for their marketing agency – they don't how you found the dentist's office. You just called their phone number, you didn't click on the ad. This creates a huge problem for tracking, measuring and optimizing ads. And marketers today know that their ads need to be adapted and optimized continuously. 
Also, even though the ads generated business for the dentist office, they don't know that Google Ads helped generate it, which could potentially result in the dentist's office cancelling Google Ads completely. 
How does call tracking help with ads performance?
We determined that online ads that include phone numbers need a way to track how many people have called their number. 
By tracking calls, marketing agencies get valuable data that allows them to see which of their campaigns are generating offline conversions (phone calls) and improve the performance of their campaign. 
Call tracking can also boost their clients' ROI.
Why does your agency need call tracking?
With the major increase in traffic on mobile devices (52.2% of all internet traffic in 2018 was from mobile devices), users are more prone to call a business than to fill out a contact form. 
For marketing agencies, this means that sometimes call conversion rates are far bigger than online conversion. This means that, if marketing agencies do not track call conversions, they report up to 60% fewer conversions to their clients. 
In addition, marketing agencies don't have enough data to optimize their marketing campaigns and increase the conversion rate.
What are some other benefits of call tracking?
We've established that call tracking allows you to monitor which online and offline marketing activities are performing well, and which need improving.
Another great benefit of call tracking is the ability to record and listen back to conversations. By listening to the needs of customers firsthand, you get the opportunity to learn how effective your marketing is, what could be improved, which should ultimately lead to greater customer experience and more loyal customers.
Call recording could also be beneficial for the sales team. By listening to their conversations with callers, you'll be able to better analyze their tactics and identify areas that require attention to increase conversion rates.
What call tracking tool should I use?
We've established that call tracking is essential for today's marketing agencies. There are a lot of call tracking tools out there, but only a few stand out and INVOX is one of them. 
With INVOX, marketing agencies can measure offline conversions (such as phone calls) and improve the performance of marketing campaigns and boost their customers' ROI.
Conclusion
We all know that marketing agencies earn a percentage of their clients' marketing budgets. It's pretty much the industry standard.  Now, If your agency increases the number of conversions with the same marketing budget, your clients should increase the monthly marketing budget you have at your disposal, and of course, your agency will retain the client plus get a few extra bucks.